Woohoo!! It's Friday and I am so glad for that for several reasons. One, we are actually getting cooler weather this weekend in this neck of the woods. I have had my fair share of

HOT

, muggy weather and it's time we bask in the cool, crisp mornings of fall. We are quite busy this weekend and you'd think I'd want to slow down after a long busy week. Lemme think about this for a minute.....Nah.
I'm going shopping with my SIL and niece on Saturday with no kids!! My hubby has graciously accepted kid responsibility for a day while I go spend money. Also, with our Sea World passes we are heading to SW for their annual Spooktacular on Sunday after church. We haven't told them yet and I can't wait to see the excitement!!!
Now onto some 5QF. I haven't participated in weeks!! W E E K S!!! I'm usually volunteering in Miss K's class on Fridays, but I'm such an overachiever and got so much done, the teacher does not need my help today. Cool for me. I can enjoy three solid hours of no children, checking my blogs, writing and emailing. Nice.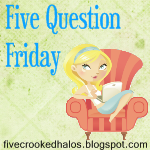 1. Do you apologize to your kids if you're wrong?
Yes I do. I've actually had to do that a few times when I made a mistake and blamed the wrong child for something. Like an innocent child, they have accepted my apology with a kiss and a hug. If only adults could display such innocence in a mistake.
2. Do you have a class ring, Letterman's jacket, or similar obscenely priced high school "must have"?
Yes I did have my parents pay for a class ring. I wore that thing for so many years then when I got pregnant with my daughter I put it away. It's been sitting in my jewelry box for ten years now. I haven't even looked at it anymore.
3. If you could be one age for the rest of your life, what age would you choose?
I would like to be 25. It was such a carefree age for me.
4. What is your favorite (unused) baby name?
I love quintessential names that my husband wrinkles his nose at. Alexander, Nathanial, Edward, Elizabeth.. Wow I am at a loss for girl names. Boy names are easy for me. I also loved the names Natalie and Aubrey. Those names were never used for my little girl. Again.. the *nose wrinkle*.
5. If you could make your child like something what would it be?
For Little E~ vegetables!! If I could get that boy to eat veggies without me trying to sneak them into foods or bribe him to eat them, it would be great. He is such a picky eater and it really frustrates me.
If I could get Miss K to like cleaning. That child is not me at all, in the sense of OCD. She might be obsessive about her trinkets and papers, but she is in NO WAY obsessive about keeping a clean room. She is definitely her father's daughter.