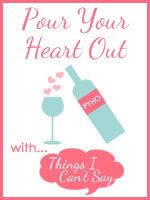 Again, just a brief reminder that everyone linking is pouring their hearts out and we should all be respectful in our comments. ;)

I'm at a crossroads in my spiritual life. As far as I can remember into my childhood, I know that my parents tried to instill religion into my life. They took us to church, Bible camps and Sunday School until I was about ten years old. Then, the hectic lifestyle of them working outside the home six days a week took a toll on us going to Sunday services. It ceased to exist.
I found the love for God again after getting married. I was Baptized the Easter Sunday in 2003 and reconfirmed my faith with Jesus Christ. The Holy Spirit working in me, I have faithfully tried to get my husband to be more committed to God, Christianity and the Bible.
After, nearly losing my marriage my husband and I started fresh in a new church home. The church we were attending was leaving me frustrated. The time and commitment I was putting into it was taking it's toll on my marriage. One of the most sacred things to God, the union of a man and woman.
It is our job to glorify his name, the union of two souls working together to do so.
We left the small church.
My husband and I started attending services at a very large church. The pastor's word spoke to our hearts. His interpretation of the Bible compared to today's lifestyles captured us. I wanted more, I wanted to join groups in this church. We decided to attend a new member class for those who wish to become a member.
The smoke and mirrors were gone. It felt like we were being tested, looked at under a microscope and now I question, is this the place for us? There are bi laws of being a member that I question and can't seem to get past.
My sister in law gave me a good metaphor for how I feel. "The small church you used to go to was like a shoe too small to fit. You chose a larger "shoe", but it's too big. Quit stuffing it with newspaper to make it work. You have to find the right size shoe."
I love the sermons, but is it enough? The kids LOVE their church classes and I will feel terrible pulling them out. Do I swallow my doubts about their requirements and just go forth and be a member? Is this where God wants me? I wish I knew the answers because it's hard to decipher between what God is telling my heart and what my mind is telling me.