Wow. I can't believe that it's Friday already. Where has this week gone? It's like a 5 day weekend for me! I usually have to work on Tuesday but my parent's are closing their business for the holiday. It's going to be a busy weekend with birthday parties (yes, more of those) and cookouts! Then another short week for me and then next Friday I leave at noon to go out of town for weekend retreat of scrap booking! A weekend all to MYSELF! I am excited about having some ME time, I don't know if I'll know what to do with myself.
Anyways.... onto some 5QF!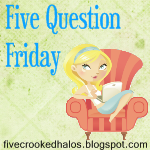 1. What do you do when you have time to yourself? uhh, lately I am never alone but If i have some alone time, I sleep. Yeah really fun, eh. Seriously sleep is not over rated. I used to grab a good book but reading just leads to sleeping.
2. When you look out your kitchen window, what do you see? you look out into my backyard and see our tomato garden that has long ago stopped producing tomatoes, the grill, the kids plastic Little Tikes slide and cozy coupe in their play yard and the woods that have grown into our chain link fence and created a beautiful shaded canopy over the back part of the yard.
3. Who/What would you want to be reincarnated as? an Amish woman. I have always been fascinated with how people lived in the old west and since I don't see our society ever going back to that I would love to experience living off the land. Back to nature, in touch with the Lord in a way that the Amish do it. They live such a simple life and sometimes I'd like life to be more simple.
4. What is your biggest pet peeve about other people's kids? How inconsiderate they are about toys and putting away their mess. I keep the kid's rooms organized and I expect guests to put it back the way they found it. Not drag every toy all over my house and leave it where they finished with it.
5. Regular or Diet soda? Diet. Diet Pepsi to be exact.