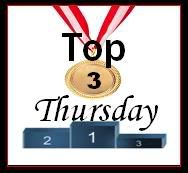 It's time for this week's challenge (or not so much of a challenge) of answering the Top 3 Thursday question.
This blog carnival was started by
Confessions From a Working Mom
and the
(Un)Experienced Mom
So when you've read mine, head on over there and check out what some of the other ladies have said and maybe even do your own.
What are the Top 3 Reasons why you blog?

3. I love to write and I don't claim to be a very good writer but it allows me to vent and get things off my chest. I am able to just talk about things I know or have experienced in my life without being judged by the real people in my life if they don't understand where I'm coming from. If some one reads my work in "blog land" and they don't agree they just don't comment. At least in my experience.
2. INFORMATION, the wealth of knowledge. I am curious about other people's opinions on deep subjects. I love finding great blogs that have tips to share, recipes that they love, great parenting advice and photography how to's.
1. Friendships and meeting new people. I have met (on here) some amazing ladies who write wonderful blogs and have so much to share. I love sharing my loves: my husband and children, with all of you.