Every Thursday
Confessions from a Working Mom
and
The (Un)Experienced Mom
have a blog carnival called Top 3 Thursday. They pick the topic and we answer the question and link back. This week's question is: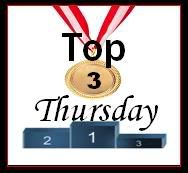 What are your Top 3 favorite TV shows?
I admit it I watch alot of television. It's the result of growing up in a household where the tv was and still is alway"s, yes ALWAYS on. It's a habit that is very hard to break but I have weaned myself from the just watching to be watching" lifestyle. Bad thing is that a lot of the shows out there are reality shows like Big Brother, Survivor, Amazing Race, The Biggest Loser, I could go on.... and as much as I enjoy watching "real" people being themselves on tv, I hate to see them go when it's over.
Moving right along cause I'm sure this is what you really want to know....
3.
ER
I loved this show. I started watching it regularly the season that George Clooney and his on screen flame Julianna Margulies were leaving. What made this show so interesting to me was how they would introduce a new character and at first you may not like them. Then one of your favorite characters either dies or leaves and you find yourself "in love" with the newbie. I did not miss an episode of that show for 10 years. It was broadcast on Thursday nights where I live and my hubby whom I was dating in the early years of my obsession with this show, knew that those nights were off limits. I was so sad to see it go this last year that I refused to watch the last 3 episodes. I still have them saved on my DVR.
2.
MERCY
My husband got me watching this show. Last year when they showed the preview my husband was very eager to see it and set up the DVR to tape it. I think I was hooked after two episodes. It's got great comedy, some tender love stories and who doesn't love an dysfunctional Irish family. I'm still gunning to see if Veronica's ex-husband hooks up with her new flame's sister. Time will only tell.
1.
Nip/Tuck
I won't go into to much detail about the show. I will say that I NEVER watch it in the presence of my children. It is rated NC-17 for a reason. I don't watch it for the sex scenes. I really like the character Christian, he is my absolute favorite. Yes, if you have ever seen the show, he is an egotistical, self-centered jerk most of the time but he has his tender, loving moments. I have been watching this show since Season 2 and I am sad that this is the last year. I really hope they answer some questions about things but I'm not holding my breath.
There you have it in a nutshell.