Welcome to the "OH NO YOU DIDN'T!" TUESDAY Headquarters. I'm so excited that you've decided to play along!

I love Target and their new 5% back when you
use your Target Check Card but this might just
change my mind.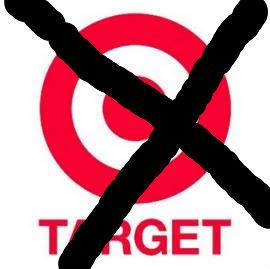 Saturday evening in after leaving my anniversary dinner before heading
to a movie with my hubby I told him we needed to make a quick
trip into Target to get grab some allergy medicine for the kids
and some sugar for our morning coffee.
After grabbing the bottle of Claritin my husband asked me
about some body wash for him. It reminded me about a sale
they were having on Dial body wash for men. $3.99 a bottle and when
you purchase 3 you get a $5.00 Target gift card and to sweeten
the deal, each bottle had a $1.00 off coupon.
I got to the register and separated my stuff into two transactions.
1. The 3 bottles of body wash
2. Sugar, Claritin, Kitchen Cleaner
The cashier rang up the Dial and then the register prompted her
to issue the gift card and then she went to scan my coupons.
The coupons scanned at $1.00, $.97 and $0.00. Really?
I questioned it and she called CS to get some assistance.
CS wasn't much help and she tried scanning the coupons before the
Gift Card issuance and it would only give me 2 $1.00 coupons.
She called a manager.
By now the people in line behind me are gathering their items and
walking to other registers. Ugh.
The manager tells me that I cannot use the coupons because they are
MFG (manufacturer) coupons.
Really? What the hell does that have to do with anything?
I begin to get irritated.
I told her that her store has these bottles on the
shelf with said coupons on them and she can't take them? Really?
She then tells me the coupons are for my next purchase..company policy.
What??!Really?
I'm thinking "OH NO YOU DIDN'T".
I told her I want to see that policy. She ignores me.
I told her if that's the case then why was I able to use
a coupon off the bottle of kitty litter bought the day before in her store?
Would she like to see a receipt????
We argue back and forth, back and forth about the coupons.
She is treating me like an idiot, like I have no idea what
a manufacturer coupon is.
End result
after 15minutes wasted in line and now I'm running
late to my movie:
I got $2.00 off and my $5.00 gift card and I
still have one coupon that she refused to force through her machine.
Do you have an ONYD moment? Link up!!!
Here are the rules:
1. Write a post about something that the cashier at the checkout, the
guy on the freeway did, your husband, your wife or best friend
may have said or done recently that made you stop and say
"OH NO YOU DIDN'T!" Your posts can be as sweet, sarcastic, or tongue in cheek style YOU choose. You can vlog it, type it or even add photos and cartoons.

2. Include a little blurb or add an "OH NO YOU DIDN'T!" button to your blog post or sidebar and link back to my blog. Need some help?
3. Add your link to the Mister Linky form at the bottom of my "OH NO YOU DIDN'T!" TUESDAY posts each week. Be sure to use the direct link to your "OH NO YOU DIDN'T!" post. To get this, click on your post then copy the URL in your browser and paste it into Mister Linky.
4. Last, but not least…stop by and visit some of the other awesome "OH NO YOU DIDN'T!" participants. It's a nice thing to do. Besides, I'll be visiting all of your posts too!
Please no Follow Me along posts unless you are including your ONYD post along with it. Thanks and happy Tuesday!

I'm really excited about this and hope you all play along. Spread the word, tell a friend and let's have some fun! Now go and get your posts ready for Tuesday's meme. I'm dying to read them all!