It's Friday and I'm looking for a little down time. The first nine weeks of summer have been very busy to say the least and we have three left. I think I'm counting right. Miss K has been in various summer camps for several of the weeks and the last one ended today. As much as I like that she is kept busy doing things she loves, this mama needs a break before school starts. I want this to feel like summer. We need to squeeze in a few more trips to the beach and head to the zoo. We have been so constricted by summer camps that we haven't been able to relax and really enjoy what we used to do when the kids weren't old enough for camps.
I had good intentions of doing my 5QF early this morning, but we headed to the mall after picking up Miss K to get more school clothes. Dillard's is having their fabulous 40% sale and I scored some good deals for my girl.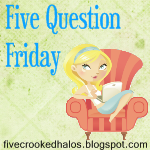 1. Vow renewal ceremonies-yay or nay? Ok, I was on the fence about this one, but after reading a few other answers I think that an intimate ceremony on a special anniversary on an island like Hawaii would be my idea of a vow renewal. My parents actually had a vow renewal on their 30th wedding anniversary but only because they never had a real wedding. They eloped before my dad had to leave the country while he was in the military. It was a wonderful ceremony and the last time I remember my grandmother being out of her house. Ok, I'm completely going off the question.. sorry.
2. What sound/s annoy you the most? The noises that people make when eating. It's like nails on a chalkboard. Slurping. crunching food with an open mouth. chomping loudly. Gulping for air in between bites of food. NO THANK YOU! I cannot stand it and have taught my kids to eat quietly and even had to train the hubs. It's funny how he never noticed and after showing him he can't stand it either.
3. If you had to pick, would you have only all boys, or only all girls for kids?
I don't think I would pick all of either. I used to want all boys before having kids and I had a girl first. She is such a drama queen about things. It's very trying. My son is a complete polar opposite. He's laid back and goes with the flow. If I have another babe, personally I'm hoping for another boy. We have enough drama here.
4. Do you believe in alternative medicine?
In certain circumstances. Western medicine is a lot about pumping you full of drugs. I'm not saying medicine is a bad thing, because I have been very grateful that I have advanced medical care readily available for me.
BUT..
When I was in a car accident many years ago I went to my family doctor first. (I skipped the ride in the ambulance to the hospital) He prescribed a barrage of drugs to take. I then went to a chiropractor who took xrays and determined my back and neck were under pressure from pinched discs. I went for the chiropractor. Six months later my back and neck were almost back to normal.
5. Would you take a family member's children and raise them if they needed it?
Yes I would. If it meant between my house or under state's care I would take them. I would make sure that the situation would not adversely affect my family and consider the circumstances as to why they need care to make sure.
It makes you think about if you and your spouse were to die unexpectedly, ie car accident. Where would your children go? Do you have a will? Something I haven't done either and have talked about many times. I want to make sure my children go to the right home.
Have a great weekend y'all! I'm heading out this weekend on Sunday again. Tampa bound!