I'm linking up this week with my good friend Shell at Things I Can't Say for her Rockin the Baby link up. It was so hard to choose just one photo of my sweet kiddos when they were just little babes so I picked two of each. That was even pretty hard to do because I could just go crazy linking up photos of my kids.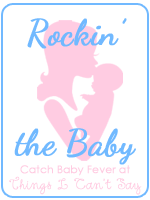 Miss K at 5 months
Miss K at 9 months
Little E at 1 month
Little E at 6 months
Now that you've enjoyed looking at my little babes, head over to Shell's to check out the blogs who have joined in and maybe you can link up too!