Welcome followers and new comers
I'm feeling frisky today and posting for a second time
today.
I think I've got my groove back!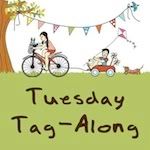 Isn't that just the cutest face ever?
Yeah I know I am biased because he IS my son and
I think he's just so handsome.
Today was day 2 for Little E without his big sister around
and day 1 at work with me ALL to himself.
He's handling it better than I thought.
After I opened some boxes he climbed into them.
Silly Boy!