It's Tuesday again and I'm playing along with my new friend
Miss JLA at Stilettos & a Fishing Pole.
Now if you haven't met her you should go over there
and check her out! She is
funny, quirky and down to earth.
This is her third week at her Tuesday Three and
she needs our support for her meme
Go show her some love and link up
Will ya?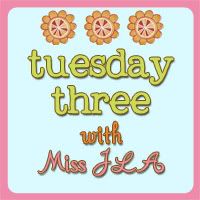 This weeks topic for 3 Things is and I quote this
from her blog.
" Every woman, okay maybe not every woman, but 99.999% of women are "Anul"
[as me and my mother call it] about certain things happening around the house. Maybe it's Laundry piled up, or Towels on the floor, or maybe it's The Toliet Paper goes upwards, not Down-wards like my mother says...
Share three things that maybe your kids, your better half, or maybe you do it that drives you BONKERS!!!!
In other words, share your top three pet peeves around the house!"
1. Toothpaste in the sink after brushing teeth. I think that it's
so gross to have remnants of toothpaste that has been
spit out of my kid's mouths or even my husband's in the sink.
Thankfully they are pretty good about it and clean it.
2. The rugs having dirt, hair or whatever on them. I have this
solid colored rug in the kitchen that must attract
everything in the sun on it.
I swear I must shake that thing everyday! Sometimes
I just drag out the vacuum to clean it.
3. Toys. I hate toys everywhere!!
Keep your toys in your room where they belong. The house
is NOT your playground. If you do take
out toys into the family room, when you're done put them away.
I know that I didn't play with them so I should have to
pick them up.
Although 80% of the time mommy is the picker upper.
A Little help please?!