Wow, this is like the first week that Friday
creeped in slowly and I've enjoyed the relaxation.
Life is grand!
I changed Miss K's dance schedule so I only have to drive to the studio
on Tuesday and Friday.
The stress of driving 30 minutes there and back
3 times a week, 3 days in a row was
getting to me.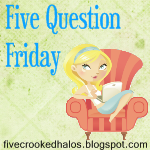 1. Did you have a pen pal when you were little (or now)? Where were/are they from? Yes, I had a pen pal when I was in elementary school. I don't remember much else.
2. If you could do a different job for one day, what would it be? Well I am a full time stay at home and a part-part time motorcycle parts person/phone answerer for my parent's motorcycle shop. I would like to be a forensic crime scene investigator. That used to be my dream job before I had kids. But that is a demanding job that requires you to be on call so I didn't continue to pursue it.
3. Do you remember your biggest fear from when you were little? I was afraid of the dark ( I'm still afraid of it,
here's a post,
but I have gotten better in the past few months) and I would freak out if I had to take out the trash. My parents lived, and still live on this big hill with a long, high driveway. So you had to walk way down the hill and take the trash to the cans which were placed near the woods. Creeeepy. I was terrified of doing that job and I would bribe my brother to do it for me.
4. What do you think is a waste of time? Why? This one is a hard one for me because there are a lot of things that I think are a waste of time, like washing my van because hours after I do it the sand from the road covers it but it's necessary to do it or cleaning my sliding glass doors because once they're clean the kids have to wipe their hands on them or walk up to it while I'm cleaning them and squish their noses on the clean glass. But it's necessary to clean them because it drives my OCD nuts!
5. What is the oldest item you have in your closet? I have a satin jewelry box that I had when I was a little girl. It still has old necklaces, broaches, pins and bracelets that I collected when I was little. The broach I have is probably older than the box because my grandmother gave it to me.
This week I'm also linking up with The Girl Creative
and Trendy Treehouse for some
New Friend Friday
I've been in such a good mood lately
and finally managed my schedule, the kids schedule
and work to make more time for my regular blogging again.
I don't like to participate unless I'm serious and going to have
the time follow others back.
So for you newcomers, thanks for stopping in
and checking out my blog.