Yes!!!! It's Friday and I can breath a sigh a relief. This week is
over and for the first time in many weeks I will
get to sleep in on Saturday. But for now I am enjoying the fact that
it is indeed Friday and I'm linking up with
Mama M
and playing some
5 Question Friday!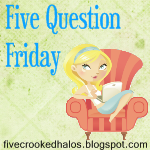 1. If you could go back to college would you change your major? Or, if you were to go to college right now...what major would you choose? This is a tricky question because it is the same reason I have not gone back because I am so undecided and change my mind on this sooo much. But aside from how much I would make and if it affected where I lived and who I was around, I would go back for nursing. I would love to be a labor/delivery nurse. After the birth of my son and the relationships with some amazing nurses who when above and beyond for me, I want to do that. One awesome delivery can wipe out many un amazing ones.
2. What do you love most about your home? uhhh, really? It's small and I have hard time finding something to like about it. I like my yard. It's a large yard for my kids to play in, the dogs to run in and me to plant gardens, flowers and enjoy nature.
3. What types of books do you like to read (if you like to read at all)? I like real life books, romance, Christian books, Chicken Soup for the Soul, Cookbooks, Faith driven books, Real Life Suspense, Fiction-Suspense
4. What is the grossest thing you've ever eaten? my recent encounter with Greek yogurt. Second to that would be some chicken crispers from Chilis that were not fully cooked and the chicken was raw in the center and I realized it when I was eating my second one. ugh.
5. If you HAD to be a character on a TV show, whom would you be? I would be Grey on Grey's Anatomy. One she is a surgeon and that is really cool and two, she is dating McDreamy! I love me some Patrick Dempsey! I have been enamored with him since I saw him in Can't Buy Me Love. *swoon*