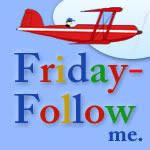 This is the second week of the new
Friday Follow! So if you didn't join last week
you can still get your post in on the fun today!
Click the button above (after reading my post. hehe)
and get in on the action!



Today I'm trying to feel a little more funny.
I have been having a few rough days even in
the light of being happy on my posts, but honestly
I'm just not feeling like me.
I still have been putting on my happy face
for my kids and husband and trying to
make it through this storm but it's a rough road.
This is not usually my style on here, because I like
to keep my attitude positive and upbeat.
But really, I am human and if I don't write
what is really on my heart than I'd be lying about who I really am.
Here's a dose of some of favorite posts
how about a
chapter in my life
? or my parenting
style
or a life changing
moment
or my
faith
.
So if you like me, follow my blog. I'll follow you back and
read what you have to say.
Have an awesome day I'm working on
having one too!