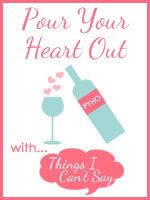 A word from Shell:
If you need more info about Pour Your Heart Out, see
THIS
post.
But, really, it's anything that YOU consider pouring your heart out.
Please grab the button for your post and link up!
Be sure to check out some of the links- you will find some amazing stories out there.
Again, just a brief reminder that everyone linking is pouring their hearts out and we should all be respectful in our comments. ;)



"

You're not just marrying the person. You're marrying the entire family".
The above quote is something my mom says to me now and again when I complain about my in- laws. I'm not sure if she told me about this before marrying my husband
would have I changed my mind?
Probably not.
But there have been many times I would like to
move far, far away. I have been with my husband for 17 years and
during that time I have witnessed and experienced many downfalls from his
family. I'm not going to go into detail but I don't agree with some things they have
done.
I don't look forward holidays or birthdays because they create chaos.
His stepmother tries to act like she is his mother. The same woman
who wanted my husband and his brother to disappear when she showed
up in their father's life. And she successfully
got my husband moved out of his dad's house when he needed
his dad the most. She has created many arguments between my husband and I.
I have pushed them away from us because you can't let her get too close.
She's like a vine that doesn't stop until she suffocates you.
I have been dreading Father's Day weekend.
I figured she would create some chaos and true to my fears she texted my husband.
She wanted to know if we had any plans.
Knowing full well that I want to see my own father she thinks only of
her husband.
Could she be more annoying?
I hate to put my husband in the crossfire of my venom for this woman
but she is never going to stop!
I am still getting over this last week's tirades from his brother.
Two times in one week he comes to my house begging for money.
Now, I have been generous to him before but enough is enough.
Don't come complaining to me that you're broke and your house
is tick infested. I can't feel sorry for you because you blew your money at Sea World
and Busch Gardens. It's not my fault that your wife
finds getting her nails and toes done is more important than
buying groceries. I'm sorry that you think just because your brother and I
are more responsible with our money than you are that we should share
with you.
I have to draw the line somewhere.
My husband says if it was MY family I would be helpful.
I don't think so, my brothers and I were raised differently.
I don't want to take the blame for why I get so frustrated with his family
but they always seem to get at me.
I have tried being open minded but it the same thing over and over
again. It has been this way for many years and I have not
figured out a happy medium.
I prefer to not spend anytime with his dad, stepmom, brother, his brother's wife
or my nephew. They complicate my life.
I didn't marry them. I married my husband.
Problem is, he keeps his dad on a pedestal and his brother keeps my husband on one.
I don't even think moving to Alaska would help.