Have you seen this button?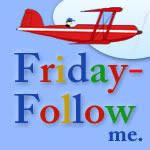 If not I really hope you check it out this Friday!
Because you know what??
I am one of the hostesses this FRIDAY!!
Yippee!
Can you believe it?
So if you haven't joined the follow and participated.
You should.
Hopefully I will also have my new blog design in place for this
Friday! I can hardly contain myself!
Happy Pre 4th of July!