Thank God it's Friday! This is a great day! I can't wait until I get off work because we're going out to dinner at our local steak restaurant, Texas Roadhouse! It opened a few months ago and I actually got the chance to eat there with a few girlfriend's one evening. But my husband has not had the pleasure of enjoying their Ribeye ( my personal favorite) and Miss K has been asking to go since her school has a family fun night there once a month. It worked out perfectly this week because K usually has class at the dance studio but this week was canceled and momma gets a break from the mom taxi! Now onto Five Question Friday hosted by
Mama M
. at My Little Life.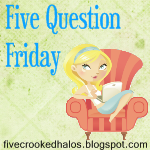 1. What was the first car you owned? a 1983 Ford Thunderbird. That car was the bomb. It had a digital dash, with red vinyl interior, these awesome buckshot chrome/black rims that like every guy wanted and a/c that worked when it wanted. I was rear ended in that car my junior year of HS and it sustained minimal damage, it was a tank. I sold her when I started college because it couldn't the 80 mile round trip 3 days a week to Orlando. Some fond memories in that baby.
2. What song are you embarrassed to know the lyrics to? Prince's Purple Rain. hahaha!! I actually like to listen to that song.
3. Have you ever had stitches? yep. On my left hand in the webbing in between my index and middle fingers. I cut it on a broken piece of glass from a picture frame.
4. What was your first job? I was a grocery bagger at a Publix supermarket at 15. They actually thought I was 16 and 1 week before my birthday they realized my age and had to "let me go" until my birthday.
5. Who is your favorite Sesame Street character?
I never watched much Sesame Street as a kid so I guess I'll say Elmo, only because both my kids have been fond of that red little guy.