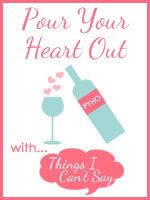 I wanted to thank everyone who read my post for Pour Your Heart Out last week and was so supportive and genuinely concerned about my little girl's well being. It's tough sometimes to spill the hard stuff and you worry about what people think about you. So this week I am not pouring so much about me.
This Wednesday as I have been doing, I am joining my blog friend
Shell
over at Things I Can't Say with her weekly meme Pour Your Heart Out.
Last year, when my friend told all of her friends that the baby she was carrying had a life threatening condition I was in shock. Here she was 30 weeks pregnant with her second child, a baby girl, and they find out that the baby has a
Diaphragmatic Hernia
during a regular ultrasound visit. Knowing this ahead of time before giving birth gave the baby a better chance of living since she would now be delivered via C-section in a neonatal hospital. A few weeks before the scheduled delivery of Angel, my friend's husband S was in a serious motorcycle accident. By the grace of God S lived but endeared many surgeries to save his leg. As if this family wasn't already going through enough, now that.
Angel was born on Oct 13, 2008 at Winnie Palmer Hospital. She was stable and was immediately placed on machines to assist her breathing. Days after birth she went through her first of six surgeries to correct the hernia and many other heart complications. On March 13, 2009 baby Angel gave up her fight and joined Jesus in Heaven.
I wasn't my friend's closest friend but during this time of her life we became close. Those of us who were there for them through the thick and thin and even in between. We were there. Through the triumphs and downfalls.
By reading my friend's MySpace blogs you would think that this really did bring them closer to God. It brought many of us to God maybe not for the reasons that he expected or maybe he did.? But I questioned God. Why? Why did it happen? What was his reason? Whose test was this? I believe that he allows things to happen for reasons that we do not understand. He could have taken her the day she was born but he let her stay here for her parents. Would the outcome have changed if she never took a breath of life?
But I don't think he expected the result that is now. During Angel's hospitalization they regularly attended church, asking for prayers and praying to God for healing. Now? You won't find them in church. I know that you don't have to go to church to praise God or believe in God but they don't live a very Christlike life. I LOVE my friend dearly and I guess I just turn the other cheek when they should be doing better. I can't turn my back on them.
I'm holding onto the hope that by setting a good example of where they should be spiritually that maybe it will change. I give up having a good time on Saturday nights with them because God is more important and I need to go to church. But is that selfish? Is it really showing them anything? It probably makes them think I'm a snob. Who knows. All I know is that whatever God's purpose, I'm still questioning the motive.