I must be feeling spunky this morning. I'm doing it again! I'm double dipping! I really must need a double of something to keep me on my toes today.
Late night shopping at Wal mart is not a good thing when you have to get up at 5:30am.


For my first scoop, Five Question Friday hosted by Mama M at My Little Life :Five Crooked Halos.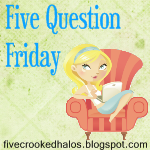 1.
Do you sing out loud in the car while you're driving?
Like a duck to water!
I love to sing in the car, the louder the better. Which requires me to turn up the volume and jam out! Until Little E says "mommyyy, turn it down I can't hear".
2.
What would you be never caught doing?
Bungee-jumping. I could never trust that the equipment is safe enough and that the guy strapping me in is qualified enough to make sure I'm okay. Enough said.
3.
Will you go #2 in a public restroom?
Guilty. My husband picks on me all the time about this. It's like an ongoing joke between us, because I always have to use the bathroom when we go anywhere. I'm not ashamed, nope.
4.
Have you ever broken a bone?
Nope, thankfully.
5.
Do you prefer cooking or baking?
That is a hard one. I'm going to say baking because I bake for fun, because I enjoy it. My family loves my homemade sweets. Cooking is required and seems like a chore sometimes.
My second
scoop
........thanks to half past kissin time Friday Fragments #88
**
Just when you think that you're ahead and you bought all your Easter goodies on sale last year, check your stuff. You can't give a boy a pink and rainbow colored rabbit and then blame it on the
Easter Bunny
.
**
Did you know that you should be wearing
blue
toady for National Autism Awareness Day?
**
Working out just isn't working out. I realize that muscle weighs more than fat but tell my brain that when I step on the scale. I don't like the extra 3 lbs that it's showing me.
**
Opened the Easter decorations tote this morning. Little E was so excited. I had to pack an Easter egg stowaway in his pocket.
**
I hope the cat doesn't discover the easter grass on the floor. No time to pick it up.
**
FREE lovebird to good home. Proven female lays eggs. Not friendly, she will bite. No questions asked.
**
Counting the minutes until my little girl walks through the door.