Where has the week gone? I woke up late
today (Thursday) and actually thought it was Friday.
I thought Miss K needed to turn in her homework
packet and we had not finished her reading fluency paper.
I felt like a kid again in school having to face the teacher
unprepared. Ugh.
Thankfully it was not Friday yet and the work got finished when
it was supposed to be.
I really hope that the Florida weather gets under control soon, this warm 70 degree
weather then whoosh, rain and then it's butt freezing again.
I have developed a winter cold thanks
to the flip flopping weather.
Speaking of flips flops, I really want to be able
to wear mine soon...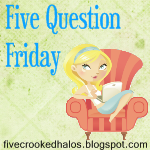 1. Would you rather be on ABC's Extreme Home MakeOver or TLC's What not to Wear? As much as I would like to say Extreme Home MakeOver, I don't consider my house a complete wreck to qualify for such extremes. But my wardrobe leaves much to be desired. I'll bet if I dig through my closets I would find dresses that I bought ten years ago, shorts that need to be replaced and and tops that have long gone out of style. I would LOVE a clothing make over!
2. Do you have any tattoos? yes, just one. I got it last year on my Birthday, it was a gift from my husband. It's on my low back, ya know they call it a tramp stamp. It's both my kids birth flowers inter twined with some foliage and their initials in it. I love it! It's so colorful and very tasteful.
3. Do you tell your kids about things you did growing up? Yes I do. I've talked about when my brothers and I used to ride our bicycles around our neighborhood and building forts in the woods by our house. The times that I went to the beach with my parents and the summers spent swimming in my backyard pool.
4. If the traffic signal turns yellow, do you stop or speed up? depends on how close I am to the intersection when it turns yellow. If I am within three care lengths from it I will go ahead and continue through but if I'm farther I will slow to stop.
5. What's your preference: chocolate or chips? Chocolate! I only chips when I am eating a sandwich so chips are not important to snack on. I like chocolate and have been indulging on some Edy's French Silk ice cream since Tuesday night and it's fabulous!! I suggest you try it and even better is that it's light, only half the fat compared to regular ice cream. So I don't feel as bad when I have a bowl every night since then.