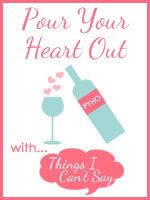 Pour Your Heart Out
It's anything that YOU consider pouring your heart out. There isn't ever a theme or topic that you have to blog about- it's completely a personal thing.
Please grab the button for your post and link up with Shell at
Thing's I Can't Say.
Again, just a brief reminder that everyone linking is pouring their hearts out and we should all be respectful in our comments. ;)
We all make sacrifices. The biggest thing I sacrifice is time. I am beginning to regret my sacrifice and I feel bad about it. Especially because what it means for regretting it. This has been a busy month. It's taking it's toll on me and I am sad that I am getting aggravated by the crunch.
This month has been so busy for me that I have had to make my phone send me alarms and messages to make sure I keep my schedule straight. I have skipped some stuff to allow for other things to happen. I say this year after year that I will not volunteer for it but I some how let myself get pulled in. I am regretting Vacation Bible School because of how much time I have to put into to it and how it affects me. I lose time with my kids, keep Miss K up late and miss out on fun activities with Little E who is too little to attend our program.
But on the other hand I enjoy spending time with the other 35 or so other children I see at VBS. There are about a dozen that I have seen come every year and they look forward to seeing me. Most of the children that attend our VBS come from broken homes, low income families. It warms my heart when I see them walk in and enjoy the two hours they spend with us. How could I miss and not see them? They only get five days of me and my kids will have me the other 360 days.
But why do I feel so guilty for sacrificing my time with them? It has been so hard to rush around in the late afternoon to get ready for VBS and make it there on time. I get upset and frustrated and wish I had not signed up. Tuesday night I noticed that I was more agitated and depressed that I have not been having family dinner time.
I am looking forward to the busy week to be over. I feel that I am sacrificing my children's time for other children. I know that God understands because I am doing his work. I am spreading his word to children who may not hear it any other time. They deserve my best face and attitude. It's just hard battle to face every day. It's one of those times that I cannot have my cake and eat it too. Life is about choices. I hope I'm making the right one.