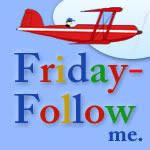 Welcome to the 6th Friday Follow hosted by our awesome hostesses, Dania and Frances at
The Kiddie Fashionista
, Michelle at
Momma's Pixie Dreams
, and Tiffany at
My Crazy Kind of Wonderful
. Thank you ladies for being willing to host! Please stop by and see these awesome ladies.
We invite you to join us every Friday to get more blog followers and to find many interesting blogs that you like. This is all about sharing and having fun.
We expect you to be on your honor and to have fun. These are only guidelines to make it more enjoyable for you. Here's how YOU can join the Friday Follow celebration:



Link up your blog below.. One Link per blog



Grab our Friday Follow button include on your side bar, or post.. grab the linky information if you want it



Follow the Friday-Follow blog and the hostesses in slots 1, 2 & 3 that have volunteered today to host



Follow the blogs you want, leave comment saying you are from Friday Follow – use common courtesy



No spammers, or xxrated blogs - family friendly



If you need more guidelines about following see
Friday-Follow.com
This list is new each week and closes on Saturday at 11:59pm EST. The links do not carry over. Please link up each week for new participants to find your blogs. It will be visible all week to visit the blogs listed.
Congratulations to our first Three Friday Follow Winners!!!
Each week we will randomly draw from three (3) blogs from the links for the next week's Friday Follow, and each blog chosen will be placed in the highly coveted number #7, #8, and #9 position on the blog hop. The first blog chosen will also be given the option of doing an interview which will post on Friday-Follow.com on Thursday the next week. We love your participation and want to give back to you!
You could be next!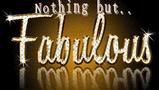 One of our lucky participants will win some nice jewelry (3 rings)!
Gumdrops- This adorable ring comes in three bright and fun colors, lollipop pink, berry blue, and key lime pie green. All rings come on an adjustable silver band. Great accessory to any summer outfit, fun, flirty, and feminine!
Each of your custom jewelry pieces will be packaged in an adorable handmade gift box. The boxes are handmade by JudyCootie and you can visit her shop at
www.JudyCootie.etsy.com
Also, let us know how we are doing and what ideas you have by taking our
Survey
.
Want to advertise on our site and be seen by thousands of people? If you sign up TODAY Advertising is $5 per spot. You must sign up today to qualify. This offer expires at midnight CST. Ads normally cost $10. Find out more information.
Spread the word about Friday Follow by grabbing our button for your blog and linky and come celebrate again every Friday. Feel free to also send out a tweet, blog, stumble or share the news in your own special way!
If you are interested in being a sponsor for Friday-Follow, please fill out the sponsorship form here.
Thank you for joining us. Have fun!
Happy Flying!!
Thank you for visiting My Crazy Kind of Wonderful! I hope that you
will stay awhile and read some of my posts and like what you read.
If you're a new follower, WELCOME!! and let me know, I will follow you back!
To my loyal followers who are stopping in! Thank you!! and I hope you like
my new bloggy design!
I am overjoyed to unveil it for this Friday!
Thank you to Jessica at the
Frilly Coconut
for my design!
If you are looking for a fresh new look or maybe some
sprucing up you should check her out!
Thanks again and happy following and
Happy Fourth of July!!