It's Free Therapy Day!! That's right, it's Thursday, which means it's the Thank You Very Much day. The way it works is that you take out all your frustrations on people/things that peeved you off during the week and thank them in a very sarcastic way, for being who or what they are/doing what they did.

This Thursday I am linking up with
Kmama
at The Daily Dribbles with Thank You Very Much!
But this week Kmama is away on vacation so for this week only, you will need to link up your TYVM with Heather from
Oswald Cuties
.
Heather has graciously offered to host TYVM this week for me while I'm on vacation because I knew that I wouldn't be able to make a visit to your blogs and read your TYVM's.
-Kmama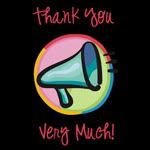 Thank you very much
to the County School Board psychologist who called me today about my daughter's testing for the gifted program. When you asked me if I had her Alpha code and I did not you decided you were done with me. As if? Then you told me I needed to call her guidance counselor knowing that she is out of the office until August 9th!!!
Thank you VERY much
but I am NOT done with you yet!!
Thank you very much
to my kids for smearing their greasy little hands on the sliding glass windows everyday this week. I have cleaned them every night after bed and you grease them up daily. I must show you all how to open the door without using your hands on the glass.
Thank you very much
to the elderly couple who took the last booth at Chick Fil A today leaving me no choice but to eat at a table. Tables with chairs do not contain small children very well like the booths do.
Thank you very much
to the printer and laptop for making my invitation creation for Little E's birthday party take much longer and be so much harder than it should be.
Thank you very much
to the GPS in my Honda Odyssey for locating a Chick Fil A on the road I was on and dinging you have reached your location and me realizing that it was in the mall.
Thank you
to the gentleman *snort* and his grandson in front of me waiting for the elevator at the science center who didn't read the sign
" Please allow all wheel chairs and strollers to enter elevator first".
But it worked out well because he wasn't paying attention to the up/down arrow either and got on the elevator going down when he wanted to go up. Too bad for him we got to go down and he had to ride the elevator longer..*snicker*