I always say...better late than never. Right? Today was
one of those days
. I couldn't get anything finished, I was tired and I had my daughter with me at work. Not a very productive day. So here I am trying to catch up and do a couple memes for Friday. I am sooo looking forward to the weekend.
Thank you to Julia at
Work,Wife, Mom...Life
for introducing me to Follow Me Fridays.
And for second meme and never too late..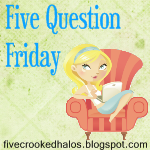 1.
Did you pass your driver's test on the first try?
I guess so because I took driver's education in high school and we took our test their and received a certificate to take to the driver's license bureau. After going to the DMV all I was required to do was retake a written test and I was given a license.
2.
What is your most embarrassing moment?
I got pretty drunk on one of my friend's birthday outings. It was four couples and a few other friends partying in Daytona that night. We hit 2 clubs and I got pretty smashed. Whoopsie. My husband and I rode in my friend's vehicle that night, the one who's birthday we were celebrating. I suggested stopping at Denny's since in my younger years eating breakfast at 2 am after drinking would sober me up. Yeah, maybe that worked in my 20's but not my 30's. I was a mess and couldn't stop laughing the whole time.
3.
What tv show would you like to be on- Oprah, The Biggest Loser or What Not to Wear?
What Not to Wear I think they pay for a new wardrobe or at least a few new outfits to start you out. My wardrobe consists of jeans, jean shorts, cotton tops and capris. I need a fashion make over.
I admit it! Honest.
4.
Would you ever get plastic surgery and what kind?
Oh yes. I want more than one procedure too. I would like some lipo, a tummy tuck and my girls done. I have struggled with weight issues since the 5th grade in elementary school. I want to wear a bikini again before I die. For you fellow breastfeeding moms, you know what I mean about your girls not looking so good after feeding your babies. Most recently I have decided I need a facial or face lift. I'm showing signs of crow's feet, brow creases and furrowed brow area. I'm picky I know and probably will never be able to afford it all, but a girl can dream. Right?
5.
What are your favorite jeans to wear?
I love Levi's, the original ones. But I am on the hunt for a new brand because they have discontinued my style.
Any suggestions? I like the heavier jean material, not stretchy material. Low rise, medium length with flare leg. Is that too much to ask??