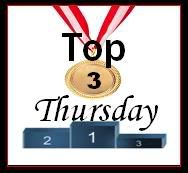 It's that time for this week's Top 3 Thursday question. And I am running late today. I've usually finished this by now but I have been really busy at work today. Anyways back to the point...
This blog carnival was started by
Confessions From a Working Mom
and the
(Un)Experienced Mom
So when you're done reading mine, head on over there and check out what some of the other ladies have said and maybe even do your own.
What are your TOP 3 Favorite things about Spring?
3. I love that we "spring" forward on the time and we gain at least two more hours of daylight in the evenings. For a mom who gets home at 5:45 after work and picking up the kids, this is a blessing. The kids
LOVE
the outdoors and they can run around the backyard and enjoy themselves while I make dinner.
2. My lawn grows back. Right now I have burnt, dried grass. I cannot wait for my lush lawn to return. This also includes being able to replant my vegetable garden without of fear of anything freezing.
1. The beach!!!! I can't wait to take the kids back to the beach for some fun, sun, water and sand! K has been asking for two months when we get to go to the beach. I am looking forward to the kids Spring Break for some outdoor sunshine fun!