You know how liberating it is to double dip, right? Its like when you're eating nachos dipped in melted velveeta cheese with salsa and you take the first bite and then you dip half your chip again. And no one says anything. Well this Wednesday I am doubling dipping and doing TWO memes! I'm linking up with Shell at
Things I Can't Say
with her Pour Your Heart Out, which is my first time on this meme so be gentle. Then for my first time I will be linking up to Chief at
Hiding From The Kids
with her What I Meant To Say.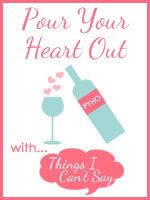 It's been said that you should have no regrets. I know that having regrets makes it look like I don't appreciate what I have now. Because if I hadn't made the choices that I made in the past the present time as I know it, wouldn't exist. I still regret one major thing. I should have finished college and not wasted the time worrying about my boyfriend. I was a freshman in college in the Fall of 1994 and I was attending UCF. I thought I was sooo big time because most of my friends were going to the Community College to get their Associate's Degree to then head on to a university. I was going straight to the big U.
Mistake #1. I should have moved to the campus and stopped living in my hometown. I would have buckled down and had no choice but to attend classes. But I lived at home, worked part time at the grocery store, attended classes full time at the college and had my boyfriend.
Mistake #2. Skipping classes to visit my boyfriend. Those professors didn't call your mom when you missed class. So I would go to class randomly and try to learn and make the grades. That didn't work too well.
Mistake #3 Failing all my classes and the university kicked me out after 2 semesters. I had no idea they could do that but they did. the worst part of all of going and not getting anything from it, the student loans. I took out loans to attend those classes and had to pay it back. I paid back alot of school loans and had NOTHING to show for it.
It's embarrassing.
I know if I had stayed in college and finished, my boyfriend ( who is now my husband) and I would have not stayed together. I really don't think we would have. My life would be completely different. Better? Worse? Who knows. I know God allows us to make choices and that he tries to guide our paths. I hoping that I'm following the path now. I'm going to make good on my past mistake and I'm making a promise to myself. I WILL GO BACK. I will get my degree and I will quit working for my parents.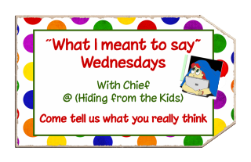 At work yesterday my mom, my dad and I were discussing my ailing grandmother and her current living situation. The conversation moved to when they and my husband's parents get that age and who would be expected to take care of them. I am not a fan of having any parent come and live with me and voiced my concern about my husband's family.
My dad says
"they're not going to come and live with you, your house is too small".
I said
, "what? You really think I'm going to be living in THAT house still?"
What I would have liked to say
"What a rude comment! Why would you think so lowly of me? You really think that I'm going no where in life? Is that it? Yeah well you better think twice about that because I'm not working for you forever. You won't have your thumb keeping me down for life. Take that!"
PS. I write this as I am supposed to be working. That is what he gets.