Day 4 of Mother's Day Mania with Mama M at
My Little Life
is off with only one day left. Head on over to read what other momma's are doing today!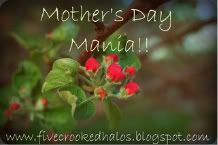 Today's theme is what do you enjoy most about being a mother...or...have you had an embarrassing mom moment?
What do I enjoy most about being a mom..
♥The unconditional love, everyday, no matter what is going on.
♥That this little person is something that was created because of the love between my husband and myself.
♥That God has blessed me to be the protector, care giver, shoulder to cry on, booboo kisser, hero, arms to hold and hug everyday
♥The quiet moments when we're sitting on the couch just staring at the tv. I steal a moment to look at their sweet faces.
♥Holding hands when we cross the road
♥When my child reminds me that we need to say the blessing for dinner.... at the restaurant.
♥When they beg me to read another bedtime story and they pile on my lap and turn the pages while I read the story.
♥Scaring the "monsters" with flashlights and shooting them with nerf guns to make sure everyone sleeps safe and sound.
♥The laughter and giggles, the deep belly laughs. The laughs that make you lose your breath.