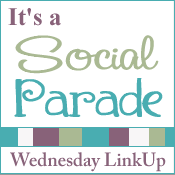 Smart and Trendy Moms has a Social Parade every Wednesday, focusing on a different way that we can connect to different blogs: facebook, twitter, google friend connect, etc. It was created for socializing and to get new followers, fans, subscribers, readers without feeling overwhelmed.
This is my first time participating in this party so let me introduce myself for those of you who are new readers or followers! If you are stopping by from Smart and Trendy Moms
(or for the first time from anywhere else),
welcome!
To my current followers,
thanks
for stopping by today!
I am a full time working mom of two children
Miss K and Little E who are the light of my life
and inspiration I pull from for most of my blogging.
I have been blogging about trying to find the
balance between working full time and being
a full time mom and everything else in between.
Recently my family has been blessed
with the financial ability to allow me to
quit working and be a SAHM.
I am excited, nervous and ready to begin
this new adventure in my life. Along with the
blessing and help of God this path could
not have been possible. Follow me in my
new blogging journey as I find the new balance in the blogosphere.